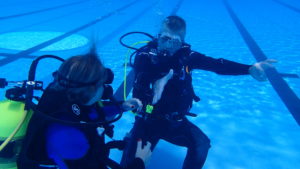 Course prerequisites: Being comfortable in water. No diving experience is required. . Min age is 15.
The philosophy behind the P.A.D.I modular scuba course is to teach people how to dive in a stress free environment. Information is repeated throughout the course and often you are learning without knowing it. First of all you will be given a manual. the longer you can spend reading, the easier you will find the course.
The book is divided into five chapters or modules. Each module corresponds to a video and lecture which your instructor will give you. A short informal quiz allows your instructor to spot anything you might have missed and clarify it for you before moving on to the next module. At the end of each module is a section describing the skills which you will be learning in confined water later.
Confined water skills are always completed in shallow and calm water or in a pool. Once you have learned a skill and practiced it in shallow water, you will repeat it several times during the series of training dives that make up the enjoyable part of the course. You will  swim with your instructor and enjoy the underwater experience for your first dive. On the 2nd, 3rd and 4th training dives you'll be practicing skills as well as having fun. By the end of the course you'll be certified to plan and conduct dives  without close professional supervision. Common sense should apply as to whether you are ready to dive without guides in certain situations. Evaluating whether a dive is suitable for you is one of the most important skills you will learn on this course. Learning to dive is great fun, so come on and explore the sea!
Average length of the course is 4 days, but not necessarily consecutive.
If you wish to use eLearning or the PADI Touch options then contact us for information and a code to down load.