Blue Sea Dive is based in Darwin and is operated by Carl and Wayne.
It was originally established in 2003 and since 2014 it is operating in Darwin
Blue Sea Dive offers the full range of dive training
We also offer work place Australian accredited training such as First Aid, CPR, Low Voltage Rescue, Basic Oxygen Administration and Advanced Resuscitation training .  This training is conducted via the PADI RTO, registered training provider number 6729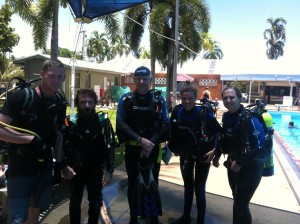 Blue Sea Dive – Darwin
Due to the conditions of Darwin, we are constantly looking for ways to facilitate our passion for diving and dive training. We use the Parap Pool to conduct all confined training. Parap Pool is a first class Aqua venue and the deepest public pool in Darwin. We operate off a "Rib" to conduct all of our open water dives and we are able to access all of the Darwin harbour and outer harbour sites. We also have access to larger vessels to accommodate larger groups, or the more distant dive sites. We have a full complement of equipment for use and hire, in addition to being approved Scuba Pro dealers, for the sale of equipment to get you started.
You will find details of the PADI accredited courses we are approved teach through PADI, which range from the introductory Discover Diving Course, through Open Water and Advanced courses, Rescue right through to Dive Master, Assistant Instructor and the pinnacle, Instructor.
General diving information and Links to dive sites of special interest can also be found.
We hope you enjoy the site and please feel free to Contact us if you have any suggestions or questions about diving or regarding information on this site.
Should you wish to learn using the PADI e learning process link on the following link
www.padi.com/elearning-scuba-registration/default.aspx?irra=24271&CourseType=ow
Carl is now side  a PADI certified Side Mount Instructor – more to come shortly
Side mount diving is a new way of diving, which was originally adapted for cave diving, however suits the conditions of Darwin and has some surprising advantages.
Equipment
We are ScubaPro agents and can supply the full range of equipment here in Darwin. Below is a link to the current 2015 catalogue and range.
http://www.scubapro.com/en-GB/AUS/home.aspx
We are also agents for the full range of Land and Sea Equipment. A full link and purchasing information to come shortly. Check out the range at  – http://www.hgbaus.com/
Best regards,
Wayne Sutcliffe, Master Instructor, PADI 467671
Carl Davies, Open Water Instructor, PADI 338208