also here, Specialty Courses including…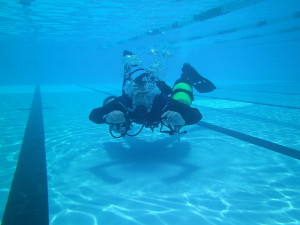 Course prerequisites: Certified as Open Water Diver or equivalent rating. Building on what you learnt in your Open Water Course, the Advanced Course offers you an introduction to the many and varied types of specialist diving available around the world. The course consists of five dives and self-study knowledge reviews. You will be introduced to the thrills of deep diving and taught how to acquire the added discipline and techniques required to safely explore what lies beyond 18m. You will also hone your navigation skills beyond what you learned in your first course. Good navigation skills will add to your confidence and increase your eagerness to start planning your own dives. These two dives are required by P.A.D.I  in order to achieve the Advanced Diver rating. You can choose the other three dives in the course. Simply pick the areas of diving that interest you!.
Specialties:
Night Dive
Learn the techniques involved in safely diving in darkness. Ideal for those wishing to take part in our observation projects or just the casual fish watcher! The reef is an entirely different place at night. Fish you may have seen many times during the day act completely differently after dark. Lobsters, crabs and mantis shrimps scuttle about looking for a meal, whilst trying to avoid becoming dinner for the larger nocturnal hunters like the octopus and moray eels that are now also moving about. A fascinating experience that no diver should miss! As with all the dives in the Advanced Course, the Night Diver Experience Dive can be credited towards achieving the Night Diver specialty rating.
Naturalist Dive
Learn about marine life.
Underwater Photography Dive
Learn the basics of using an underwater camera to document your dives, and help you identify marine life. Photo experience dive can be counted towards the U/W Photographer specialty rating.
Multi-Level Dive
Learn to use P.A.D.I recreational dive planner to safely extend your bottom time. Now you will be diving deeper, you will need to master the techniques involved in planning and executing multi-level dives. You should remember from your Open Water Course that the deeper you go, the less time you can stay without incurring decompression penalties. A quick look at dive tables will tell you that a dive to your new maximum depth of 30m (following the deep dive of this course) will give you a maximum bottom time of 20 mins. (Not so long.) Using the techniques you learn in this course, you can plan to ascend to a shallower level where not so much nitrogen is being absorbed into your body and continue diving for much longer. You can learn more about multi-level diving in the Multi-Level Diver Specialty Course.
Drift Dive
Obviously dependant on the time of day and the tides. Learning how to ride the current opens up a wider vista of diving sites. Learning to drift dive requires a good sense of team work and close understanding with your diver group and cover boat. The rewards are effortless glides over great distances, improved chances of observing Pelagic marine life and fish that like strong currents ( like manta rays). When you are more confident, there is nothing like the adrenaline rush of jetting down narrow coral canyons like a fighter pilot on a low-level run. Again, the Drift Experience Dive introduces you to the techniques you will perfect in the Drift Diver Specialty Course.
Search and Recovery Dive
Occasionally things get lost off the side of boats. Likewise, as a research diver you can often find yourself responsible for setting or resetting buoys. In this dive experience, you are introduced to the techniques for thoroughly and systematically searching an area and rigging and lifting objects. The skills you learn on this dive will give you a good head start when you go on to become a rescue diver. Your dive also counts towards Search and Recovery Specialty Course.
Peak Performance Buoyancy
We have all done it, one minute you are swimming along perfectly neutrally buoyant, and then suddenly you are plummeting towards the reef! – So now you add a squirt of air to the bcd but oops – now you are rising too quickly! Scenes like this are familiar to most divers. By learning to perfect your movement underwater, you can cut out many of the causes for these yo-yo periods. By getting your buoyancy right, you'll find you use less air, avoid a lot of ear squeezes by controlling your descent rate, have a better time, and finally, understand what your instructor meant by being able to fly in slow motion. No more hanging on to the ascent line for dear life to keep from blowing the safety stop! Buoyancy control is an art that takes time to master but, by taking this dive, you will be sure to pick up a few hints and tips that will make your dives feel more under control. A full peak performance Buoyancy Specialty Course is available to help you further refine this most valuable of diving skills.
On completing the course, you will be issued the P.A.D.I Advanced Open Water Diver Certification, which enables you to participate in diving activities at depths of 18 – 30m. Advanced Diver Certification is a prerequisite to many specialty diver ratings and the Rescue Diver Course
Emergency First Responder
Emergency First Responder First Aid is a skill no diver should be without. Not a diving specific course, it teaches the same techniques used by paramedics and doctors to approach a medical emergency. This includes C.P.R and thus is ideal to fulfill the prerequisites for the Rescue Course.
Course length: 8 hours.
Check out the elearning link
If you wish to use eLearning or the PADI Touch options then contact us for information and a code to down load.