Diving in Taiwan
Whilst you would not choose Taiwan as a dive destination, there are plenty of creditable dive locations to learn to dive, improve & maintain diving skills and enjoy the local underwater environment.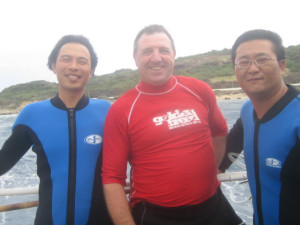 Divemaster Clive Hunter
Main dive locations
Kenting in the south has various dive shops, accommodation ranging from hostel to resort style and plenty of eating/drinking options. It is mainly shore based but with some organizing, boat trips can be arranged. Shore dives are reasonable with a nice pinnacle in the middle of Kenting Bay. In contrast to northern Taiwan, diving in this area is largely year round.
Lanyu (Orchid Is) and Green Island via Taitung are good options depending on seasonal weather influences such as typhoons.
Longdong Bay / North East- being the dive sites most accessible to Taipei they are popular training sites in the summer months. Numerous dive shops offer tanks and rental gear at reasonable cost.
There are regular bus/train services to these areas but carrying bulky dive bags make arranging your own transport / taxi a better option. Most diving is done off the rocks of Longdong Bay but if you follow the highway south for approximately 2kms you come to the Longdong Marine Park. For a small fee you can dive, use the facilities and enjoy a cappuccino in your dive intervals! However, tanks are not available here.
Penghu Islands- Located in the Taiwan Strait  and serviced by regular flights from Taipei,Taichung, Tainan,Kaohsiung and Chiayi .Ferries operate (seasonal) from Tainan, Kaohsiung and Putai(near Chiayi)
Diving here is boat based and seasonal (May to November). Visibility (in May) was good but heed local advice re currents.
There are various accommodation options available in Makung and on outer islands and hiring a scooter makes it easy to check it all out.