Ship Wrecks Thailand
Blue Sea Dive Thailand offers Wreck Diving on three local Shipwrecks:
HMS Khram (Former USS LSM-469).
The Petchaburi Bremen.
The Hardeep Wreck of Samee San.
HMS Khram
The Thai navy has sunk a decommissioned warship near Koh Phi and Koh Larn islands off Pattaya, to turn it into a breeding ground for marine life. Vice-Admiral Somjai Wattanayothin, chief-of-staff of the Royal Fleet at the Sattahip naval base, said the
decommissioning of HTMS Khram to was a navy project to mark His Royal Highness Crown Prince Maha Vajiralongkorn's 50th birthday. The United States gave this ship (Former USS LSM-469) renamed HTMS Khram to the Thai Navy on the 25 May 1962. The ship was dilapidated beyond repair, having been in use for more than 60 years. It now lies about 300 metres from Koh Phi in 30m of water.
Diving the HTMS Khram: HTMS Kut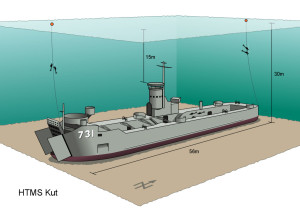 Depth to the top of the wreck 15m; depth to the sea bed 30m; visibility 5-15m; Best choice of gas is Nitrox 38.
This ship  was prepared by the Thai Navy as a dive site, and is free from armaments, oil and most hazards to divers. Large holes have been cut in many areas and penetration dives through the ships passageways rarely takes the diver out of natural light. Care should be taken with a few of the rooms though, as big steel watertight doors are still fitted and may be locked easily with the unsuspected diver still inside.
The Bridge/Radio room. This is the highest area of the wreck. It is possible to stand on the bridge at 15m depth. All glass (and sadly the portholes themselves), telegraph, steering mechanism, and any bits that may be used as spare parts have been removed. Entry into the bridge area is straightforward and safe.
Deck Area and side passageway The ship was made for carrying tanks, troops and equipment to a beach head, so the centre of the boat is a large flat area with built up sides. There are several points of entry into the well lit side corridors. Ensure an enjoyable and safe swim through , not only for yourself but fellow divers, by taking care not to stir the silt.
The engine room is located aft, with entry via large access hole in the middle of the load deck. Unlike most engine rooms there is great natural light. Both main engines have been removed (probably to use a spare for her Thai Navy sister ship HTMS Kut). This is a great tech diving classroom, with pipes gauges and dials everywhere, though who knows how long they'll stay. Again, careful with silt in this area, as it's possible to get trapped under overhanging ledges going under the deck.
The dive site is marked by 2 buoys at each end of the wreck.
Dive master Alex Beuchel and some friends are updating the dive map of this wreck. See schematic diagram above right. This will be updated
as more dives are made on the wreck.
The Petchaburi Bremen
Petchburi Bremen Steamship: PETCHBURI Built at:- George Seebeck AG shipyard, Bremerhaven, Germany. Yard Number:- 173 Tonnage : 2191 gross tonnage Length: 88.5 m Breadth: 11.9 m Draught :7.3m Engine : 3-times expansion-steam engine Power : 1150 Hp, Speed : 12.5 nm/h,&; Crew : 34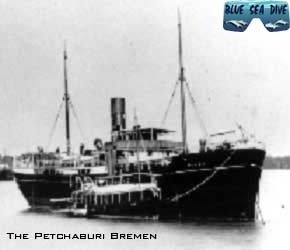 Launching under the name PETCHABURI for the company North German Lloyd in Bremen. Delivery to North German Lloyd August 1914 : At the beginning of World War I the PETCHABURI was interned in Bangkok, confiscated by the Thais. It was renamed, KAEO SAMUD. On a voyage from Bangkok to Swatow with rice on board she ran ashore near Koh Sichang in the Gulf of Siam and sank.  Current Position is in the Chong Khram Channel at (approx) N11'40 & E100'49.
The Hardeep wreck
Specifications and Historical Records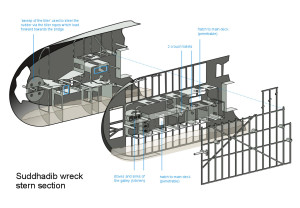 Name: Suddhadib (Suthathip)
Registration:- Thai, Sunk:-1st May 1942, 12:55pm
Length/Tonnage: 68 meters/1000 tons
Wreck Location:- N012'31.5, E100'57.5. Near Koh Chuang, Gulf of Siam
Lying on its starboard side. Max depth 26 meters, with  three 1000 pound bombs nearby. Powered by 3 cylinder Coal fired engine. Single Screw Vessel.
Thai History & Sinking Details (courtesy of the Royal Thai Navy archives and Khun Pichit Muangnapoe)
Suthathip Wreck is a steam ship build by Dearn Rua Thai company (Thai Shipping Co.), it was built to be used as a cargo ship for the Hong Kong and Vambua company. The engineer who built the ship was Mr. K. Farsdao.
Suthathip used one propeller with a 3 cylinder steam engine (105.5 horse power). Registration date is 7th December 1940.
The Dearn Rua Thai company used Suthathip as a cargo ship for approximately 3 years before it was called by the Royal Thai Navy to assist in WWII. On the 3rd of May 1945 Sattahip bay was heavily hit by allied bombing. Naval Admiral Kanok, commander of the second Navy unit ordered Suthathip and other 8 warships to find a better place to anchor. Suthathip and 3 other ships were anchored in front of Koh Chuang. On June 12th, 10-15 bomb squadrons attacked the Suthathip and other anchored ships.
H.T.M.S. U Thong, H.T.M.S Angthong and H.T.M.S. Tha Chin were all hit but remained afloat, whilst the unarmed Suthathip, was severely hit, caught fire and sank.
Some say that the original name of the ship was "Hardeep", but was called "Suthathip" after she sank in Suthathip bay, Koh Chuang.
Details of the Sinking
Evidence that the Hardeep was sunk by an aerial attack is furthered by a large unexploded 1000 pound bombs lying on the sea bed near the wreck. The bomb lies approx 100-150 meters aft of the vessel at a depth of 27-33 meters. The bomb has a brass nose and tail fuses, and was probably dropped from insufficient height to arm itself before striking the water.
The Hardeep lies on its starboard side at a max depth 26 meters. The entire structure is encrusted in heavy coral growth and makes a lovely 'cavern' dive. It is possible to swim from one end of the wreck to the other without leaving the wreck. Both large forward and aft holds offer safe, well lit penetration dives for all suitably qualified divers.
The large steam engine has been removed through a purpose cut hole in the side making access to the engine room easy. Remains of the funnel and chain winch capstans lie on the seabed nearby. In all likelihood the large brass prop would have been removed by local Thai salvagers before it stopped spinning, and what remains of the cargo is nowhere to be seen. Large lumps of coal rest in the engine room next to the 3 enormous boilers. Once having battled down the line against the fierce currents that often flow over this wreck, the Hardeep makes for a lovely dive. There is a lot of sea life on the wreck including a resident turtle, a few rays, the usual giant grouper, and a giant starry puffer fish often lurking just above the boilers. When diving the wreck aim to be first down the rope before others scare them away.
Dive master Alex Beuchel and some friends are updating the dive map of this wreck. This wreck has been here for 60 years and many changes have taken place since the first sketch. This is an excellent training site for wreck training as it has all the various elements in including strong currents  depending on the tides.
Check out more info at
http://www.thaiwreckdiver.com/hardeep_wreck.htm